Tour Code : Pergamon
Itinerary : Pergamon Acropolis, Asclepion ,Perchmant paper, Rug Cooperative Demostration,
Location : İzmir
Duration : 8 hours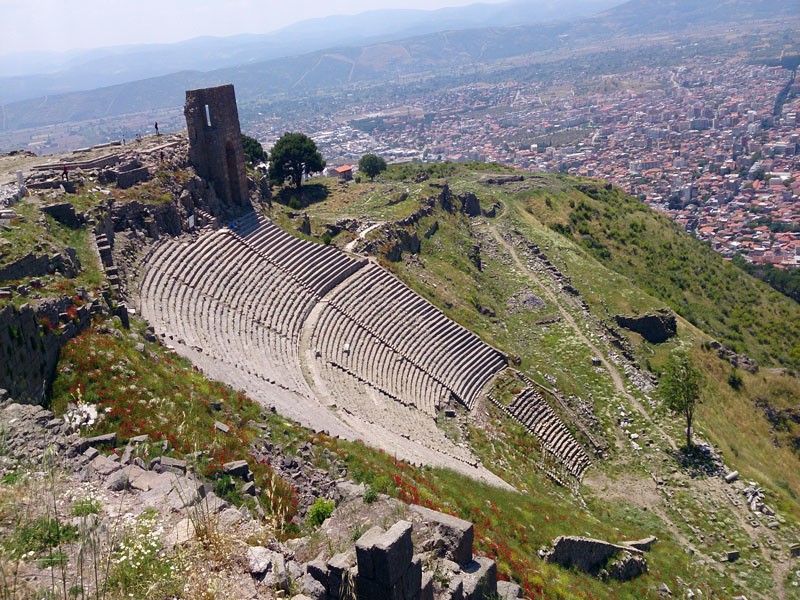 If you like history , Turkey will be heaven for you. Especially Western part of Turkey has too many ancient cities. Pergamon is one of the important ancient city in Turkey. Thanks to this guide services , you have chance to discover Pergamon Ancient city with Professional Tourist Guide. Pergamon (today name Bergama) located north of İzmir. Two hours driving far from İzmir.
---

what to see in Pergamon
Pergamon was one the seven Churhes in Asia Minor where Saint John sent letter.
you can visit asklepion where was Ancient healhty center. Galen, important man for medicine, lived in Asklepion. you can see rooms for patients Oldest Tunnel and water voice. asklepion where die could never enter.
you can visit Acropolis to see the steepest Ancient Theater and also ruins of Zeus altar and ruins of Second biggest library and Trianus Temple.
---

What to eat
Eggplant food called Cagırtma is so famous in Summer and also Meatball is so tasty in Pergamon
---

Shopping
in Bergama , you should buy local rugs , Parchement souvenirs or onxy jewellery.
---
For more information for Pergamon Tour, please feel free to contact us
to read our reviewsin Tripadvisor please click link