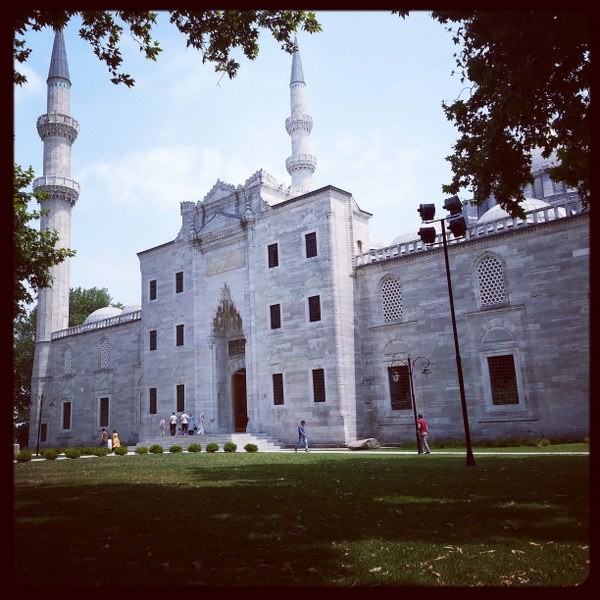 If You want to feel Ottoman life , you should go to Suleymaniye Mosque and place around Suleymaniye Mosque. when you come to here , you can see one of best complex building , best cafes with gorgeous Bosphorus View , Ottoman Wooden Houses and local food restaurant ( Especially Bean and Rice and Pumpkin sweet).
Istanbul has seven hills same like Rome in İtaly. That's why , Istanbul called as a Nova Roma ( New Rome). In Ottoman times , these hills was decorated by Ottoman Beauties. One of these beauties is Suleymaniye Mosque which you can see evert corner of Istanbul.
Suleymaniye mosque was constructed by The Solomon the Magnificient between years of 1551 and 1557.Suleymaniye mosque was built by best Architect Sinan the Great. Sinan the Great ordered to dig up all this area before everythings of Construction. they did 50 metres deep pool. They sacrificed more or less 100 sheeps. a and then they put all meat of animals in the pool. and then they wait a few days . a few days later, they checked meats. they used place where meats was not consumed for construction area . Architect Sinan want to built Suleymaniye Mosque same like Hagia Sophia museum. Suleymaniye Mosque is smaller then hagia Sophia Museum. Suleymaniye dome is 53 meters high and 27,5 meters diameter wtih about 250 potteries for echo system. Architect Sinan used Ostrich eggs to keep building clean from Spider's Web. and also He built a room over main entrance to collect smoke of Candles not to destroy Beautifull tiles and drawings. Ottoman never wasted anythings. they used smoke which collectedin room as a inkfor caligraphy. Althought Architect Sinan tried his best in Suleymaniye Mosque. he said that Suleymaniye was his apprentice work.
Architect Sinan built 4 minarets with 10 balconies. It is significant that Sultan Suleyman was fourt Sultan after conquering Istanbul and 10 th Sultanin Ottoman History. Architect Sinan built 4 Medrese , Turkish Bath and kitchen for poor people meals
Today you can visit Sultan Suleyman's and his Daughter Mihrimah's Tomb and his wife Hurrem's Tomb a and Architect's Sinan Tomb around Suleymaniye mosque.
written by Rasim Terzi
www.istanbulguideservices.com