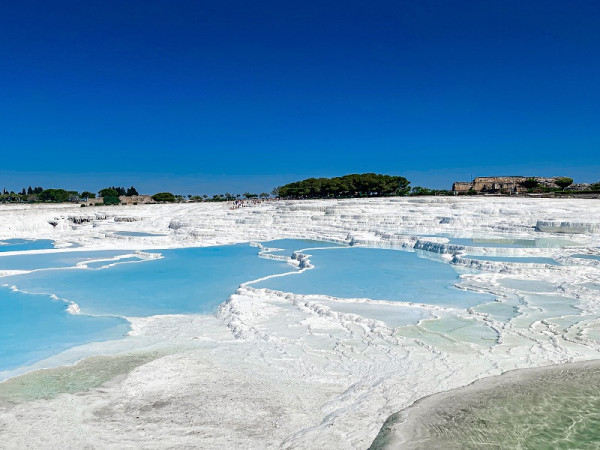 Pamukkale

Pamukkale is a very beautiful natural place. Let's say you want to list the natural beauties in the world in this list. Of course, there should be two places in this list. these are Pamukkale and Cappadocia. To read more details about Cappadocia . Click Here please
---

Turkey's Cotton Castle

Turkey has earthquakes a lot. Even if earthquakes seem like very bad disasters, there are some good things about it. Thanks to the earthquake, we have Pamukkale today. With earthquakes breaking the earth, the underground waters have begun to rise to the earth. Some of these waters are mixed into the sky as steam. The rest is spread over the geography in which it is located. These spreading waters have been forming Pamukkale for 14000 years. To read more details about Pamukkale activities. Click here please.
---

Pamukkale Day Trip

We recommend our guests who want to visit Pamukkale to overnight at least 2 nights. Because these waters in Pamukkale are very healing. hotels in this area have thermal pools. swimming in these waters for two days is very useful for your body. But everyone's budget and time are not suitable for this. Instead of staying at the hotel, Our guests only prefer to attend bus tours. Bus tours for Pamukkale usually depart from Antalya and Kuşadası&Selcuk.
---

Pamukkale tours from Kuşadası and Selcuk
Tours from Kusadasi & Selcuk begin early in the morning. After your guide takes you from your hotel, you will reach Pamukkale after a three-hour journey. Along the way, your guide will make a detailed presentation about Turkey. When you arrive to Pamukkale, the ancient city of Hierapolis and thermal pools are visited at first. then go to a hotel in the area to have a lunch and swim in the thermal pool.And Then you will have s mall break for shopping of Cotton
---

Pamukkale tours from Antalya

Russian tourists love Pamukkale. Another important for the Russian tourist is St. Nicolas, who lived in Demre in Turkey. therefore Tourists who want to see these two things together, prefer to stay in Antalya. ,Turkey's popular holiday destination , Because Antalya is very close to these two places. You can reach Pamukkale with a three-hour bus journey from Antalya. For this reason, you can easily join Pamukkale bus tours in Antalya.
---

Pamukkale tours from İstanbul

If you want to start Pamukkale tour from Istanbul. You can only do this with a scheduled flight. Turkish Airlines has reciprocal flights between Istanbul and Denizli every morning and evening. You can fly to Denizli through a morning flight, then you can reach Pamukkale after an hour's car journey. After visiting the ancient city of Pamukkale and Hierapolis, Click here to learn what to do in Pamukkale . you can return to the airport and return to Istanbul by evening plane. Starting tours from Istanbul are very rare. It can only be done in the form of a private tour.
---
Pamukkale Cappadocia

You can only see natural beauties such as Pamukkale and Cappadocia as mentioned above in Turkey. There are also a few crazy guests who want to visit Pamukkale and Cappadocia together in one trip. this will be a tiring tour. because the distance between Pamukkale and Cappadocia is quite long. it takes about ten hours. Therefore, you will spend a day in your vehicle in your life . This is the negative aspect of Pamukkale Cappadocia tour
---

Pamukkale & Cappadocia tour from İstanbul

If the negative aspects we mentioned above are OK for you. you can arrive Pamukkale by morning plane like Pamukkale Tour from Istanbul. You can visit Pamukkale all day long . Then, you overnight in Pamukkale. Departing from Pamukkale early in the morning, you can arrive in Cappadocia after a 10-hour journey. you can visit cappadocia the next day. Click here to find out what is done in Cappadocia.
---

Tours from izmir to ephesus and Pamukkale

The other package tour will fly from Istanbul to Izmir and then visiting the ancient city of Ephesus at first. Click here to find out what to do in Ephesus And then you can arrive Pamukkale and overnight in Pamukkale. In the following day, you can visit Pamukkale and Hierapolis ancient city. And then Flight back to İstanbul.
---