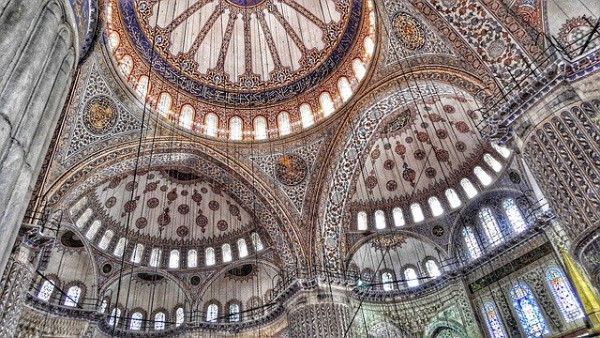 Blue Mosque
Blue Mosque ,Sultanahmet Camii Called by Locals, is the most visited mosque by tourists in Istanbul. Because This Mosque is Located nearby all highlights like Hagia Sophia Museum, Topkapi Palace Basilica Cistern and Hipodrome.
click link to read the article about Bosphorus Cruise
click link to learn price of Bosphorus cruise
Blue Mosque ıstanbul
There are more or less 3000 mosques in Istanbul. But Blue Mosque is choosen by all tourists for visiting. Because there are about 21000 Iznic tiles having flowers motifs like roses, tulips in Blue Mosque. These tiles, which are about 400 years old, still seem to have been made yesterday.And Also they look great.
Blue Mosque Hıstory
In Roman and Byzantium periods, Royal Family Palace was located in this area. This palace turned into ruin due to the Crusade. During reign of Sultan Ahmet, This palace area was used for construction of Blue Mosque.
Blue Mosque Archıtecture
Blue Mosque is not only mosque. But also It is complex building which contains a few building like Madrasah, Bazaar,Turkish Bath, Ablutional fountain and Tomb. This Mosque has six minarets and 16 balconies. Blue Mosque was contructed by order of Sultan Ahmet in 7 years between years of 1609 and 1616. Architect of This remarkable building was Sedefkar Mehmed Agha who was one of apprentices of Architect Sinan. The interoir of the Blue Mosque is a rectangular with a width of 52metres and a length 54 metres . diameters of Main dome is 23 metres and heigh of Main dome is 43 metres.
Blue Mosque Entry and Tıckets
Etrance of All Mosque in Turkey is free of Charge and No need to get tickets
Blue Mosque Openıng Hours
There 5 times praying in The mosque. prayer times are different according to the movement of the sun. So it changes every week.
Opening hours for visitors of Blue mosque
Open: 08:30 closed 12:15
Open: 14:00 closed 16:15
Open: 17:15closed 18:15
For visitors, Blue mosque is open at 2:30 pm on Friday due to Friday Holy Praying
Blue Mosque Etiquette
it should not be forgotten that this place is a religious building and those who worship should be respected
You can take photos and videos of the building inside. But it is not accepted to take photos and videos of those who perform prayers. Professional shooting is subject to permission.
Take your shoes off before entering and put your shoes in plastic bagswhich you can get it at the entrance of Blue Mosque
Modest and Loose fitting costume for both Men and women. And Also Woman must wear head scarf during visiting mosque
Do not raise your voice in the mosque
Do not eat and drink in the mosque
---
Istanbul Guide Services & Daily Tours Istanbul provide many different varieties of enriching regular and private tours in Istanbul like Istanbul Layover tours, Guided Hagia Sophia Tour, Guided Topkapı Palace Tour, Bosphorus Boat tour, Istanbul Daily Tours, And Also Daily Tours Istanbul provide services of Private Istanbul Tour Guide, Private Airport transfer, Hotel reservation, and Car rental, etc. Besides the Daily tour, Istanbul has more or less twenty years of experience in Tourism Business in Different destinations of Turkey like Cappadocia, Ephesus, and Pamukkale. thanks to This experience, with our pleasure, we can do services od Ephesus Tours, Cappadocia tours, Turkey Package tours
Please feel free to ask any question to us and follow us in our Social Media like Facebook, İnstagram, Twitter, and Youtube get more information about İstanbul Guide Services & Daily Tours Istanbul