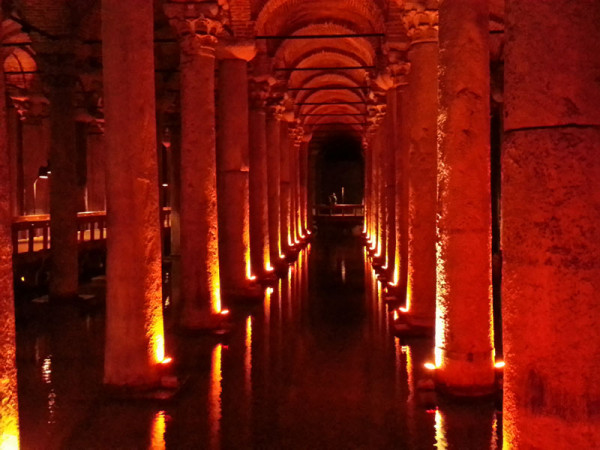 Basılıca Cistern
Basilica Cistern is located in old town of Istanbul. Basilica Cistern is a must for every tourist on the travel list.Therefore, Basilica cistern is one of the most visited places in Istanbul such as Hagia Sophia, topkapi palace and blue mosque. For this reason, entering the Basilica cistern takes a lot of time because of very long line. For Solution of this problem , we highly recommend you to join Daily tours which is guided by Offical License tour guide. Because License tour guides and their group have priority to buy tickets and entering Basilica Cistern.
Click link to learn information about Hipodrome of Constantinople
---
Yerebatan cıstern
Basilica Cistern , which was called Yerebatan Sarnıcı ( Literally means cistern sunken under ground . Basilica Cistern was constructed by Byzantium emperor Justinian the great , founder of Hagia sophia museum, in 6 th century A.D. That's why it was called Basilica Cistern. Because Basilica ( Basilius) name only had been used as a first name of Building which was constructed by Roman emperial. For this reason, Ceasar ,the most famous emperor of the Roman Empire, is mentioned as Basilius Caesar in inscriptions
---
frequently asked about Basılıca Cıstern
Basilica Cistern has two different entrance fees;
Local people entrance fee is 15 Turkish Liras,
Entrance fees for Tourist is 30 Turkish liras
Basilica Cistern is open everyday between 9 am to 5:30 pm
Basilica Cistern is rectangular shaped with of 140 metres and a width of 70 metres. Surface area of Basilica Cistern is 9800 square metres.
It is thought that approximately 100,000 tons of water could be protected in Basilica cistern.
There are 336 Columns in this cistern
Basical Cistern is closed till end of March 2020 for visiting due to Corona Virus .
---
Cıstern ıstanbul
Like the top of the ground, underground of Istanbul is also a great. More or less 100 diferents cisterns same like Basilica cistern are located in different parts of Old town of Istanbul. According to rumor, there are only forty cisterns under the topkapi palace. You can spend at least one day. While traveling to Istanbul, you can spend at least one day exploring the jewels under Istanbul. As daily tours istanbul, we are sure that this will be an extraordinary experience.
---
Underground cıstern ıstanbul
We want to do a list of Undergroud Cıstern Of Istanbul what we know . Of course, we know that this list does not cover all the cisterns of Istanbul.
We continue to learn in life. we will share the new cisterns with you as we discover them
Basilica Cistern
Binbirdirek Cistern
Cistern Restorant
Cistern in first courtyard of Topkapi Palace
Cistern in Second courtyard of Topkapi Palace
Nakkash Cistern
Antik Hotel Cistern
Unkapanı Cistern
Nurosmaniye Cistern
Istanbul Male High school cistern
Şerefiye Cistern
Sultan Cistern
Atius Cistern
Fildamı Cistern
Atpazarı Cistern
Kadir Has Univercity Cistern
Aspar Cistern
Cukurbostan Mokios Cistern
---
Istanbul Guide Services & Daily Tours Istanbul provide many different varieties of enriching regular and private tours in Istanbul like Istanbul Layover tours, Guided Hagia Sophia Tour, Guided Topkapı Palace Tour, Bosphorus Boat tour, Istanbul Daily Tours, And Also Daily Tours Istanbul provide services of Private Istanbul Tour Guide, Private Airport transfer, Hotel reservation, and Car rental, etc. Besides the Daily tour, Istanbul has more or less twenty years of experience in Tourism Business in Different destinations of Turkey like Cappadocia, Ephesus, and Pamukkale. thanks to This experience, with our pleasure, we can do services od Ephesus Tours, Cappadocia tours, Turkey Package tours
Please feel free to ask any question to us and follow us in our Social Media like Facebook, İnstagram, Twitter, and Youtube get more information about Daily Tours Istanbul