tags: what to do in Kusadası Kusadasi Top things to do in pamukkale things to do in kusadasi
What are must-see places in Kusadasi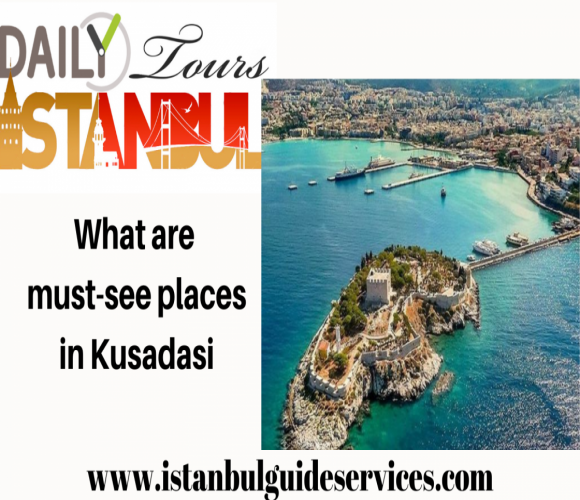 Editor: Rasim Terzi (Mon, Jun 20, 2022 4:43 PM)
---
Kusadasi is the most visited port by cruise ships in Turkiye
---
What are must-see places in Kusadasi
What to do in Kusadasi port
After seeing many Greek islands, cruise ships come to Kusadasi. Every tourist who thinks of visiting Kusadasi is curious about the top things to do in Kusadasi. We have written this article in response to tourists who have these questions, with our 20 years of experience in the tourism industry.Although Kusadası means bird and island, this is not an island. Tourists, especially those who come by cruise ship, are confused about this issue. During my 20 years of guiding life, some of my guests thought they were on another Greek island. Until you show them the map of Turkey. :)
where is Kusadasi?
Kusadasi is a district of Aydın Province, located in the west of Turkey and famous for its Olive Oil and Figs.While 20 years ago, when I started the guidance profession, its population was around 50,000, it is now over 250,000.
Kusadasi what to do ?
Top things to do in kusadasi
Ephesus Ancient city
The world-famous Ephesus ancient city is located in the Selcuk district of Izmir, 20 minutes away from Kusadasi. One of the biggest reasons why tourists come to Kusadasi is the ancient city of Ephesus.You can find out what you can see in the ancient city of Ephesus by clicking
The most important place you should visit together with Ephesus is the house of the Virgin Mary.People from all over the world come to visit this holy place, which is located on the top of the mountain next to the city of Ephesus. Another important place next to the ancient city of Ephesus is the holy place where the tomb of the Apostle St. John, who accompanied the Virgin Mary, is located.
There are many more places to visit near Ephesus. But of course, it will be enough for them to see the places we mentioned above, which have time problems. Other places we would recommend for those who do not have time problems are the ruins of the Temple of Artemis, one of the seven wonders of the world.
I don't want to make the article even longer by adding other places. You can read the details about the ancient city of Ephesus and its surroundings in the link above.
---
Şirince village is a cute village 15 kilometers away from Kuşadası. For this reason, this village was given the name "Sirin" which means cute pretty in Turkish. You can taste the beautiful and delicious tastes of Turkish cuisine in Şirince village.It is also famous for its wine made from fruit in this village.One of the two villages where life can continue according to the Mayan calendar is Şirince village. Sirince Village is one of top things to do in kusadası port
If you are an archeology lover person. One of the most important places like Ephesus around Kusadasi is Priene, Miletus and Didym.Priene, Miletus and Didym are approximately 70 (45 miles) kilometers from Kuşadası. You can reach Priene Miletus and Didim with about an hour's drive. Since these three places are very close to each other, they can be visited in the same day. But if you came to Kusadasina by cruise ship. You may not have enough time to visit Priene Milet and Didim.
Kusadasi daily or Private Boat Tour
Another activity to do in Kusadasi is to join the daily boat tours departing from Pigeonada, which is also the name of Kusadasi. These boats depart at 9 am. After about 1 and a half cruise, they take a break in their magnificent bays on the shores of İzmir Ahmetbeyli. They return around 4 pm. Daily boat tours in Kusadasi may not be suitable for cruise ships arriving in Kusadasi. Cruise
ship guests can rent these boats on an hourly basis, if they wish. and have the chance to swim in the cool waters of the Aegean.You can also visit Kusadasi by private boat with a special route for you.
---
If you are looking for a beach club to swim in Kusadasi. Kusadasi beach club region is the Yılancı Burnu.Yılancı means snake's nose in Turkish.This area of ​​Kusadasi looks like a snake's head. therefore the local people gave this name to this region.There is the historical ancient port of Kuşadası under the water of Yılancıburnu.for this reason, swimming area in the sea is limited in the Yılancı Burnu.
---
Walking along the beach starting from the Pigeon island
Pigeon Island, the symbol of Kusadasi, is a must-see. Although it is called an island, you can reach this place, which is connected to the land, from the city center and the ports with a 15-minute walk.On the Pigeon Island, there is a castle built by the Ottomans and used to watch the sea. In this castle, the skeleton of the whale, which was found dead on the coast of the national park, which is 20 km away from Kuşadası, is exhibited.
Ox Mehmet Pasha Caravanserai
The caravanserai, built in 1618 by the grand vizier of the time, ox Mehmet Pasha, is the most visited place in Kuşadası thanks to its location. In the early 2000s, this place, where the Turkish Night was organized at night, was also used as a hotel. Today, it is used as a hotel. It is a place open to everyone's visit.You can see the statue of the ox Mehmet Pasha right next to the caravanserai. According to the rumor, he got the nickname of the ox because of the ox entering the parliament tent at a parliamentary meeting where he was the chairman.
Kusadasi Old Town ,Kusadası Old Town Mosque and Turkish Bath
As in all Ottoman cities, the old city was built around a kulliye in Kuşadası. Öküz Mehmet Pasha, who had Kusadası Caravanserai built, had a mosque and a Turkish bath built in Kuşadası.This historical part of Kusadasi is now full of shops selling touristic items. In addition, when you enter the labyrinth-like historical streets of Kuşadası, you can reach the important bars of Kuşadası nightlife.
A structure called the Castle Gate in Kuşadası hosts a very interesting museum today.Artist Necati Korkmaz is an artist who shapes very small objects with his tools. Only the artist's decorations on the works can be seen only with microscopes.One of the most interesting corners of Kusadasi is this museum.
Kusadasi Fish Market and Fish Restourant
Kusadasi Fishermen's Market, which is a beautiful place with its authentic and small appearance, may seem like an ordinary activity to visit, but some of the creatures that the sea offers to people can be very interesting. For example, sometimes you can see a shark in the fish market.Kusadasi Fishermen's Market, which is a beautiful place with its authentic and small appearance, may seem like an ordinary activity to visit, but some of the creatures that the sea offers to people can be very interesting. For example, sometimes you can see a shark in the fish market. Of course, if you want to leave Kusadasi without eating a fish. Fish restaurants, luxury or shabby, are located around the fish market.
The hand statue in Kusadasi, which is a symbol of peace, former Minister of Foreign Affairs Ismail Cem and the Greek minister of foreign affairs, Turkish and Greek, left the pigeons in their hands for peace, from the place where this statue is. In order to ensure that this event is not forgotten, the Kusadasi Hand statue was made. As Turkish Leader Mustafa Kemal Ataturk said, "Peace at home, peace in the world"
Kusadasi marina is used only as a place for luxury yachts. It is also a place where you can have a good time thanks to the shops and restaurants in and around it.
Kusadasi Gazibegendi hill
If you want to tell me a place so that I can see the whole Kuşadası from there and admire it. This place should definitely be Gazibegendi. Before entering Kusadasi, Mustafa Kemal Ataturk stopped and looked at his Kusadasi and said, "What a beautiful place this is," is Gazibegendi Hill. Especially with the sunset view, this place is wonderful.
Kusadası Water Activities
Since Kuşadası is a city next to the water, there are activities you can do. We have listed the main ones below.
Kusadası Turkish Bath Experience : The most important activity with water in Turkish culture is undoubtedly the hammam experience.
Kusadasi Aquaparks :
Kusadasi Diving Tour: Interested in seeing an airplane underwater? This is also possible in Kusadasi.
Kuşadası Kuştur Beach and Adagol :
Kuşadası Ladies Beach :
Kuşadası Long Beach : really longggggggggg:)
Kusadasi GüzelCamlı National Parc : Do you like to enjoy the beach with wild boars?
Davutlar Termal experience : Healing from underground
Kusadasi Other activities
Samos Island tour from Kusadasi :
Kusadasi Mars Colony

Kusadasi camel wrestling festivals: Olive farming is a very important source of income in Kuşadası. Camel is an animal most used during the olive harvest period. But it is a pain to contain camels during their anger. o For this reason they are made to wrestle with each other. And this is enjoyed in a festive way.
Mon, Jun 20, 2022 4:43 PM
---