Tour Code : Pamukkale
Itinerary : Pamukkale , Heirapolis, Thermal pool,Laodikia ancient city,karahayıt,Textile shopping center,
Location : Denizli
Duration : 8 hours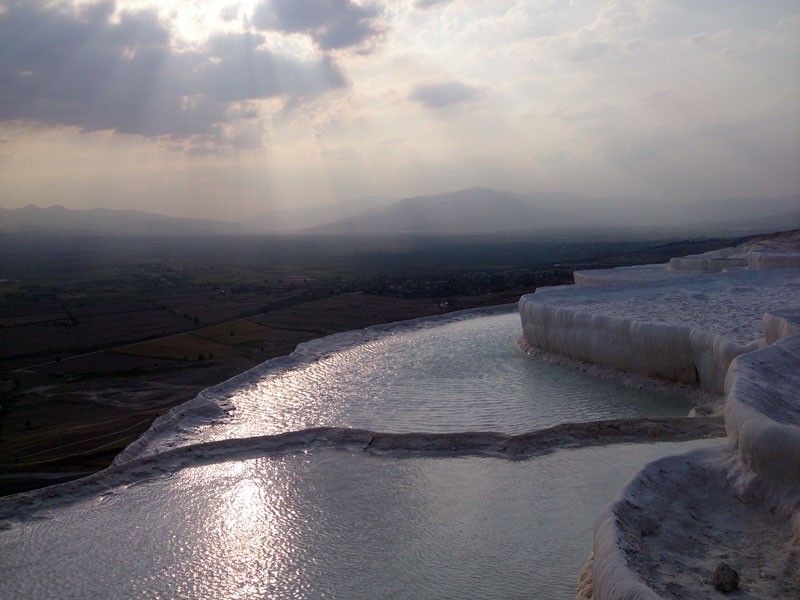 You can visit museums, palaces, churches, Mosques , beaches all over the world. But you can see place like Pamukkale except Turkey.

Is earthquake a disaster for you? for us the answer is no. Because thanks to Earthquake , land was broken. So all natural thermal water comes out. some of water is evaporated to air. another part of Thermal water lays down to the hill. And this natural operation creats Pamukkale (cotton castle in Turkey).

Pamukkale located in Denizli city in Turkey Pamukkale is 3 hours or 3 and half hours driving far from Antalya , Kuşadası, Selçuk and Izmir. Pamukkale is 1 hour far from Cardak Airport so you come to Pamukkale from Istanbul thanks to one hour flight from Istanbul to Cardak Airport.

Hierapolis ancient was founded by Pergamon king Attalos for his wife Hiera nearby Pamukkale. During ancient times , Hierapolis was important place for illness curing. And also Ancient People prefer to spent last period of their life in Heirapolis. and they passed away in Hierapolis. Hence Heirapolis had the widest necropolis (graveyard) in Ancient times.

Heirapolis is important for christanity. Because Laodikia , one of the seven churches in asian minor located nearby heirapolis. Saint Philip was marthyrized by Roman Soldier in Hierapolis. Today you can see ruins of Saint Philip' martyrdom.

And also you can swim inside Thermal pool called Kleoptra . it is believed that kleoptra was beautyfull thanks to this pool.

When you are in Pamukkale , you should see Denizli Cock and his long term voice. and also you should make shopping in Local Textile Company Especially Towels and Famous vine shop.
and also when you are in pamukkale, you should taste semolina with ice cream.

for more information for tour please feel free to contact us
to read our reviews written by dear guest in Tripadvisor please click here.